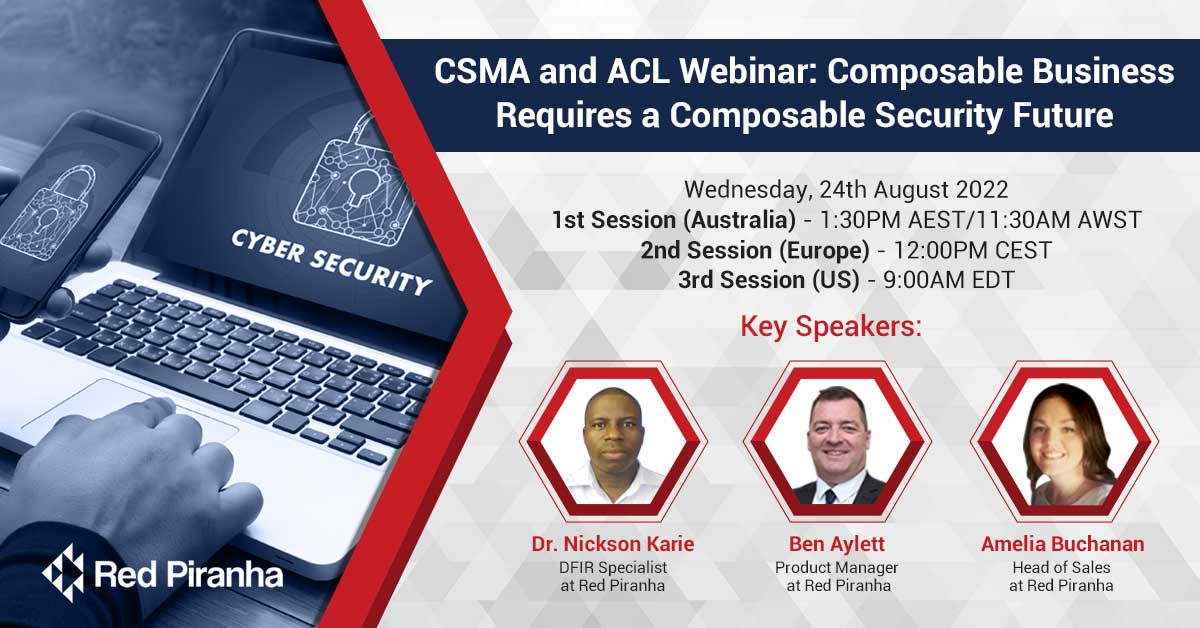 ---
Red Piranha has a close relationship with our partners and is releasing these monthly live sprint sessions to assist partners on how they can move towards composable security with the Crystal Eye consolidated security platform.

In this 30 min session hosted by our product manager Ben Aylett and Dr Nickson Kari, we will be covering how to manage access control in the cloud Orchestrate system. Automating security service engagement via the platform via human machine teaming allows our customers to access the security resources needed on demand. It all starts with the correct structure for SOC-as-a-Service SLA creation and the links between Orchestrate and CESOC and Ben will be taking partners through how to manage and call on services when you need it.
---
Event Program
WHY
CSMA with Red Piranha: The Red Piranha Advantage
Reduce Cybersecurity Event impact by up to 90% with CSMA
Reduce operational overhead and complexity with CSMA
Be ready to act with SLA ready
Security Village on Demand
WHAT
CSMA – Definition, concepts and methodology
HOW
How do I get SLA-ready response?
How do I implement correct Access Control Lists (ACL)?
How does Licensing and Registration work?
How do SLAs in Orchestrate work for the Client, Partner and Red Piranha?
How to Co-Brand an appliance?
Q&A
---
Where: Online via Demio
When: Wednesday, 24th August 2022
1st Session (Australia) - 1:30PM AEST/11:30AM AWST
2nd Session (Europe) - 12:00PM CEST
3rd Session (US) - 9:00AM EDT
---
Key Presenters
---
Dr. Nickson Karie - DFIR Specialist at Red Piranha
Ben Aylett - Product Manager at Red Piranha
Amelia Buchanan - Head of Sales at Red Piranha