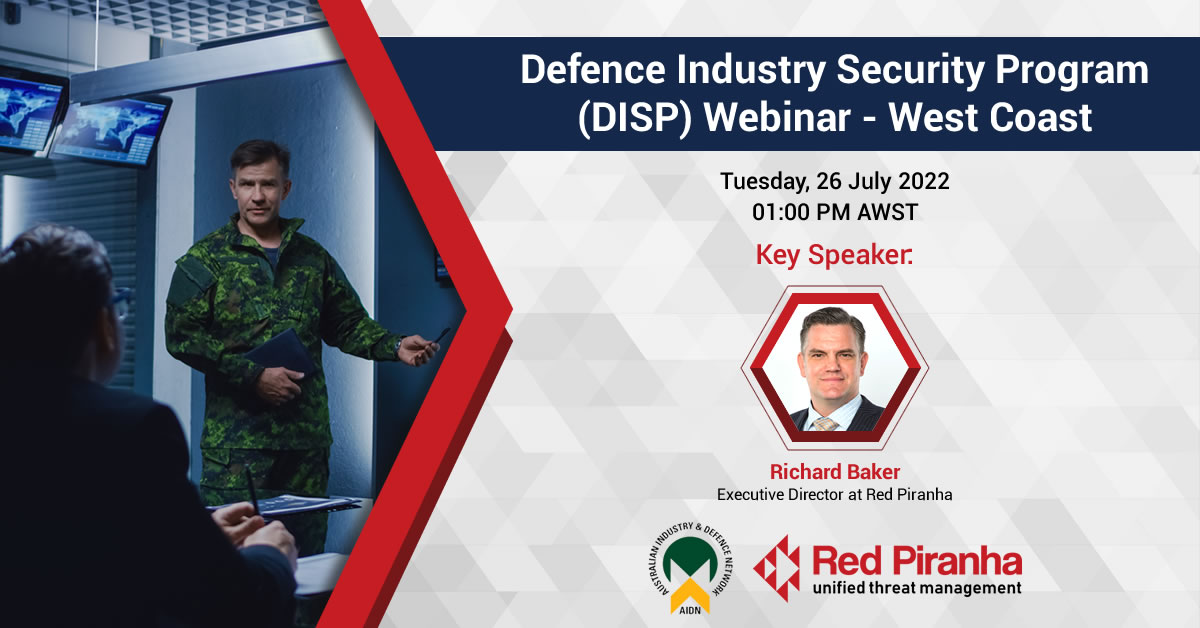 AIDN, ODIS and Red Piranha are pleased to offer our members a very special Webinar event on the importance of Defence Industry Security Program (DISP) membership for Defence industry contractors.
Join Red Piranha's Richard Baker as he discusses how you can become a DISP Member. Our program is a:
Holistic Solution for all 4 DISP categories
One stop complete DISP Solution – No 3rd party required
Proven DISP Pathways solution and collateral for your entire journey: beginning, application, to your ASR
We will also hear from Rachel Falzon, Defence Industry Advisor from the Office of Defence Industry Support (ODIS) to understand the services they offer and how they can help you.
ABOUT RED PIRANHA
Red Piranha is an Australian ISO 27001 Certified manufacturer of advanced cybersecurity solutions and services for government and defence organisations, proud member of the AMSC AMS WEBSITE; Australia's preeminent Military Sales catalogue.
Red Piranha's Crystal Eye XDR Infrastructure Cybersecurity Solution is a 100% Australian owned, managed and manufactured platform providing true Australian sovereign Capability.
WEBINAR DETAILS:
This exciting free Webinar will be held on 2 separate dates in July. To register for one of these events, click on one of the following dates and use the corresponding Promo Code:
West Coast:
Tuesday 26 July 2022
1pm AWST
AIDN Member Promo Code: DISPPIRANHA26
Registration for this webinar closes 5pm, 25 July 2022
PLEASE NOTE:
All webinars are the same presentation. You do not have to register for all webinars.
Registrations will be checked against the AIDN Membership. Non-members will not be allowed to attend.
A link to attend the webinar will be sent out 20 minutes prior to the event starting.