Modern Day Threats Require a Mobile Army
"Defence is becoming more reliant on fast, reliable and secure internet-based communications. But the threat to this connectivity from malicious actors is also growing. The ability of the ADF to operate in a contested, congested and degraded communications environment forms the foundation of joint cyber effects."
Secure your Defence Supply Chain
"Secure and resilient information systems are essential to Defence's ability to conduct operations. There has been a marked increase in cyber-attacks against Australia by foreign actors and criminals."
– Force Structure Plan 2020, Australian Defence Force (ADF).
Red Piranha in the Defence Sector
Red Piranha has been highly active within the Australian Defence ecosystem. We're recognised as playing an important role in the Defence sector and are a proud participant in many Defence programs:
Red Piranha is a proud member of Team Defence Australia, making us a licensed Australian Defence Exporter recognised by the Australian Defence Export Office. We're one of only 2 Australian cyber security companies with IP who is part of Team Defence Australia, giving us great access to export opportunities and allowing us to showcase together at trade expos.


Red Piranha was accepted in the D.Start Ignite program in 2021, initiated by the Department of Defence and the Defence Science & Technology Group (DSTG) to bring together interdisciplinary expertise to address Defence and national security challenges.


In March 2022, our Crystal Eye XDR was listed in the 2022 Australian Defence Sales Catalogue which showcases selected products and services from the Australian defence industry and Australian Defence Force (ADF) surplus equipment. This is the second time that we have been listed in this catalogue.
Red Piranha is DISP certified and we're part of the DISP program.


We support the Department of Veterans' Affairs by joining Australia's Prime Minister's Veterans' Employment Program by supporting the employment outcomes for our returning service individuals.


Red Piranha was invited by the Australian Federal Government to join the Australian Government's ASEAN 2018 Cyber Security Mission, partnering with AustCyber and the Australian Trade Commission (AusTrade).


In 2021, through our engagement with Defence West, we joined forces with South Metropolitan TAFE under the Cert III Defence Industry Pathways program to improve the quality of cyber security graduates through the integration of practical skills and industry knowledge into curriculum development.


We're a member of the Henderson Alliance to support the growth of SME capability within the Defence sector.


We continue to expand our technology partnership with Downer Defence. In the words of Downer Executive General Manager, Practice Capability, Dan Murray:

"As part of Downer's delivery of services to the national security and critical infrastructure sectors, we are focused on improving the security posture of assets in what is an increasingly complex threat environment. We look forward to working with Red Piranha to develop a product that will offer a simple and integrated approach to delivering enhanced levels of risk visibility and security assurance for industrial customers."
We have been nominated for the "Cyber Business of the Year" 2022 for the Australian Defence Industry Awards. Making it into the final 5 with organizations like Downer and Lockheed Martin is a great achievement for an emerging Australian company.
We are an ISO27001 certified organisation as well as an authorised certifier for our clients. We are also ISO9001 and CREST ANZ certified. We are proudly Australian Made and are passionate about building sovereign capability in Australia.


Crystal Eye XDR
Red Piranha's Crystal Eye XDR platform is a fully operational cybersecurity system that is featured in the 2022 Australian Defence Sales Catalogue. Our Crystal Eye Security Operations Centre (CESOC) is a security operations platform, that leverages Crystal Eye XDR to provide a battlefield-ready cyber warfare command system for the protection of multiple forward operating bases and central cyber command deployments. It's available in cloud or discreet deployment options for field standalone deployments. CESOC is a defence export certified, fully sovereign capable system integrated into a single platform using proprietary firmware, software and advanced signal processing algorithms. CESOC can provide an integrated platform for defensive cyber operations to enable the Mobile Army of the future.
Australian Defence Force and Cyberwarfare
Information and Cyber is one of the 5 key capabilities of the ADF, along with Land, Air, Maritime and Space (from Force Structure Plan 2020, ADF):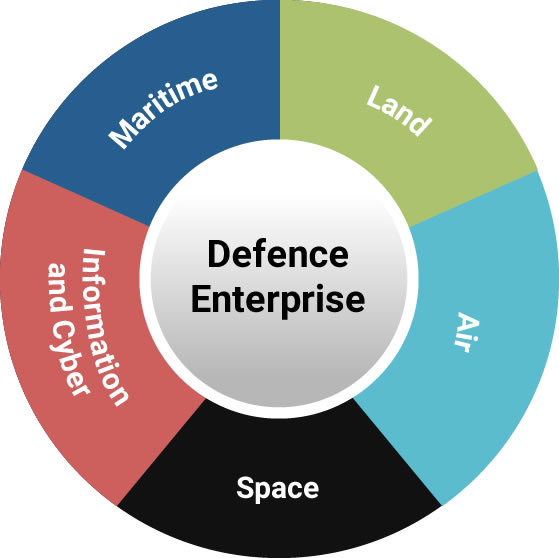 The ADP is expected to invest around $15 billion in Information and Cyber capabilities over the next decade.

Advanced cyber technologies are critical to strengthen the intelligence and cyber capabilities of the ADF. Crystal Eye XDR is ahead of the curve on delivering those advanced capabilities.
Cybersecurity for The Defence Supply Chain
The Defence industry presents significant commercial opportunities for the private sector. To minimise third party risk, strict cybersecurity standards must be achieved by contractors through the Defence Industry Security Program (DISP) before engaging on projects for the Department of Defence. The program outlines a number of requirements across the security categories of governance, personnel security, physical security, information and cyber security.
Meeting these requirements requires a comprehensive security program covering all areas of cybersecurity. Red Piranha's Crystal Eye platform and integrated services can help achieve a number of these compliance areas with minimal investment of both time and money to get your business secure and compliant as quickly as possible. This provides a significant competitive advantage in opening up lucrative defence contracts for your business.
Red Piranha offers the only end-to-end platform that covers vital areas of the DISP questionnaire. With Crystal Eye XDR and our trademarked eCiso service, you can get on with your business knowing you're protected by Red Piranha, as part of Team Defence Australia.
ISM and Essential Eight
The Australian Signals Directorate is a critical function of the ADF for identifying and responding to foreign threats targeting Australian interests. The Australian Cyber Security Centre is part of the Australian Signals Directorate and is responsible for the development of the Information Security Manual (ISM) and Essential Eight security measures to help government departments and private enterprises from securing themselves against a range of cyber threats. Crystal Eye XDR and our Crystal Eye Attack Surface Reduction (CEASR) app have been developed to address the key requirements of ISM, Essential Eight and DISP.


Learn more about our defence grade cybersecurity solutions